VERTEX
PRICING MANAGEMENT
The Vertex Proposition Configurator is the main module for the configuration of VERTEX and allows for a very detailed configuration of all applicable customers, contracts, price components and structure of (sales & hedge) books.
The configuration of applicable customer contracts consists of four levels
Proposition templates
This is the level at which customers receive the offer (proposition). It consists of Sales products and additional contract characteristics and sales related costs and benefits.
Sales products
Sales products define the type of contract (e.g.: Fixed, Click or Spot.) that is offered and consist of one or more Product components.
Product components
Product components are linked to a specific price formula and consist of multiple Product elements.
Product elements
A Product element defines an individual cost component of a delivery price. The VERTEX BRE-engine is used for configuring the calculation of the cost component.
Proposition configuration
Proposition template
A Proposition template consists of one or more Sales products, with (if applicable additional business rules, configured by using the VERTEX BRE engine
Sales product
Sales products are listed separately to enable easy administration and configuration.
Specific cost component
Each Sales product consists of several Product elements, each of which contains a specific cost component of a delivery price.
The calculation and composition of the Product elements
The calculation and composition of the Product elements are determined by business rules that can be scripted in the VERTEX BRE-engine.
From the script (business rule) a calculation can be executed within VERTEX, and fee-tables can be used to retrieve list prices (fees). It is also possible to call an external application (for example Python or R).
During execution, the script can also retrieve time series or other (externally) available information for calculation purposes.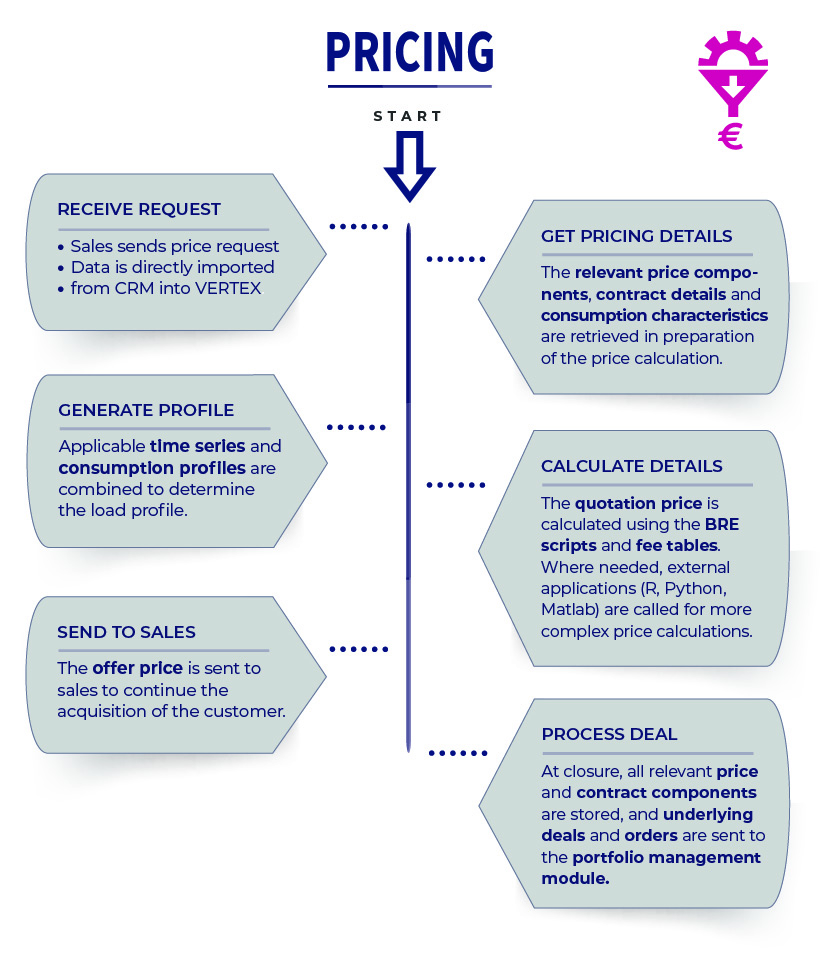 Sales sends price request
Pricing from beginning till end, All relevant price and contract components are stored, and underlying deals and orders are sent to the Portfolio Management Module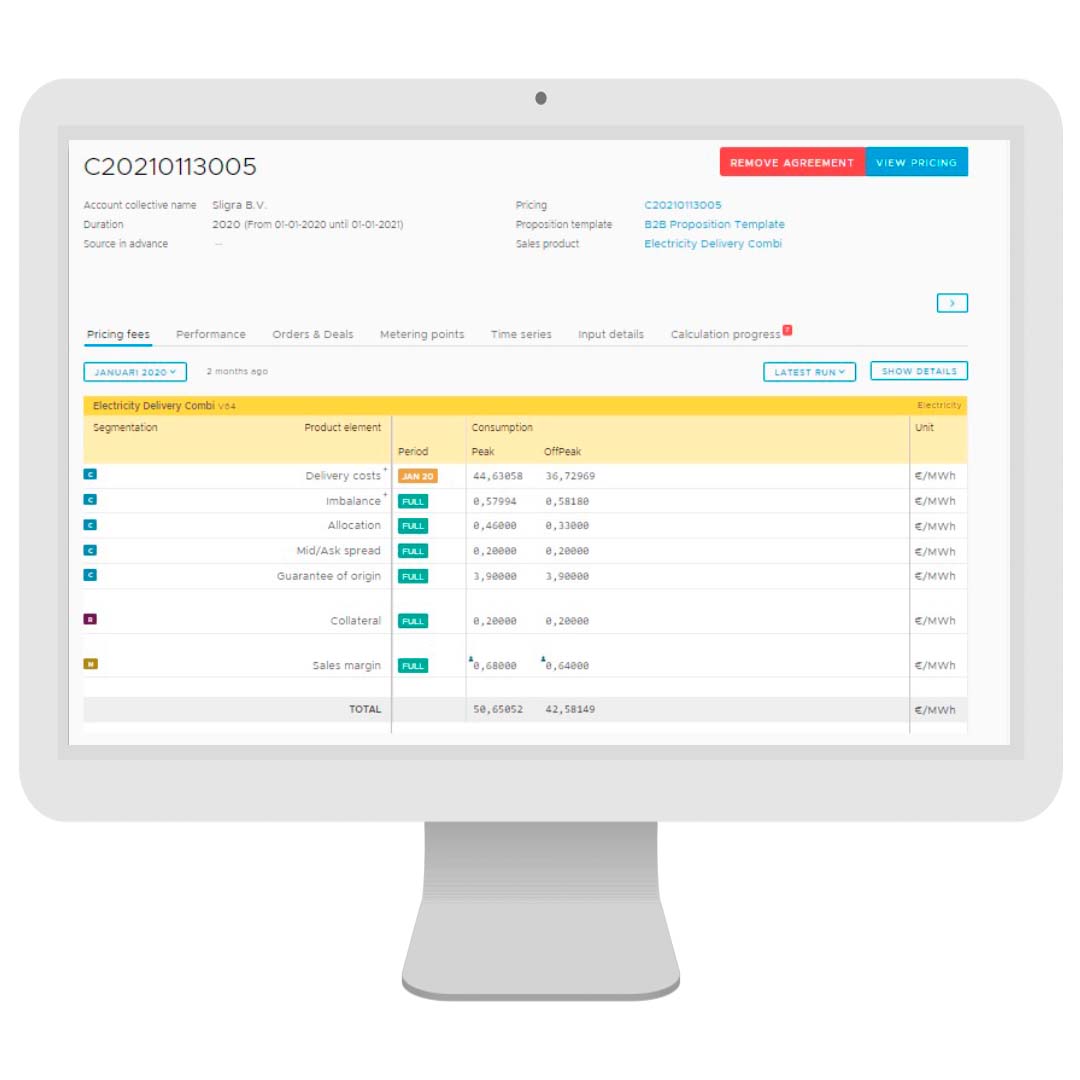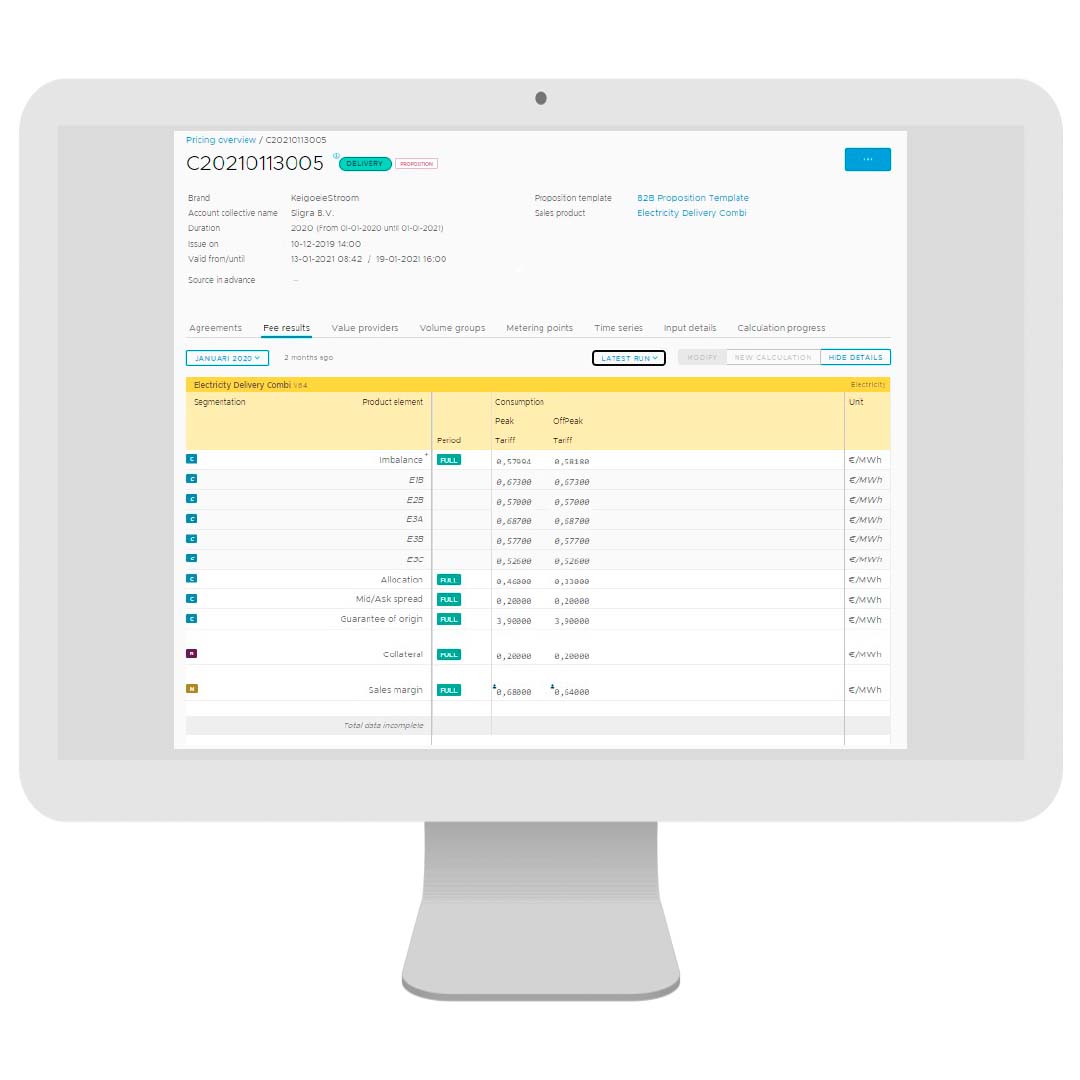 Monitoring activities
Process monitoring and control
Monitoring activities on streaming data with Spectral and API with Dexter.
7-23, 7 days a week monitoring & operational follow up with Dexter and Spectral.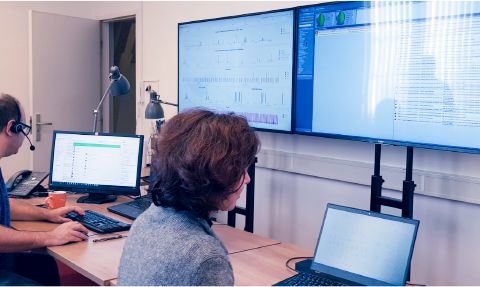 Choose the right solution for your business needs
VERTEX applicable to all major Energy companies